Who is Tom Delonge? He is the famous rock star from the band Blink-182. He has turned his rock n rolling heady lifestyle in to a hard hitting Ufologist and conspiracy theorist turn journalist. He gives us a rare glimpse of what it looks like behind locked doors, like if you or me wanted to get our foot in a specific door, we would find it hard but celebrities find it a tad easier because they are famous celebrities? It's a sad fact but true, more truer than a Sasquatch in the forests of Rendelsham forest, lol.
So why are the world's top Ufologists asking and using Tom Delonge to speak on their behalf? It's because he already has a following of millions and he has a good approach to speaking in public? Maybe? It is just my own opinion but let's see what an online post has to say about this?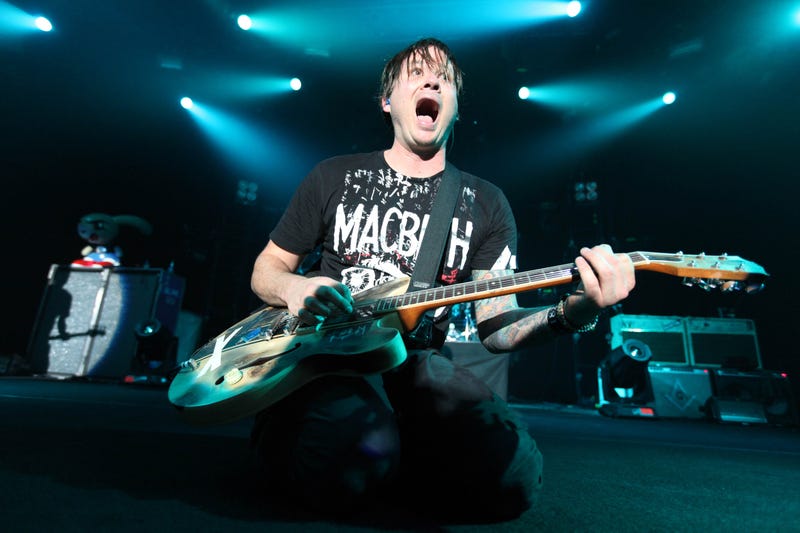 Photo: Christopher Polk (Getty Images)
So apparently Tom is a kind of guy that people just want to be seen with and he's the type of guy that people can easily open up to? That's cool. Even though he is not in the band anymore "he quit the band you know" to further is study and knowledge in the awesome field of Ufology and Aliens? Yep, to further his conspiracy theories in the field of Ufology? I say it like that because he had a really successful career as a singer, in a successful band and probably wrote some successful songs aswell
Why would you want to sack a career of great proportions and go off on a heady, hard hitting conspiracy theories wild goose chase?
Because it's the right thing to do if it's what your heart is saying? If it's the right thing to do if your head and mind is saying it's the right thing to do?
If I had a successful career in the world of rock n roll, friends in high places and good prospects of marrying a model straight off the catwalk in Milan or Paris? Maybe a Siberian BEAUTY well then, if it's what my mind and heart says? I'm going with my heart and mind! Simple as that really?
I'm going to get my passport and go for the nearest UFO crash site and get snapping then upload them? Then i'm going to interrogate them friends in high places for all the secret knowledge and hidden "out of sight" stuff that they've got!
Why not?
I found this piece online from another journalist who knows a lot more than me on the Tom Delonge story and it is a fascinating story from start to finish: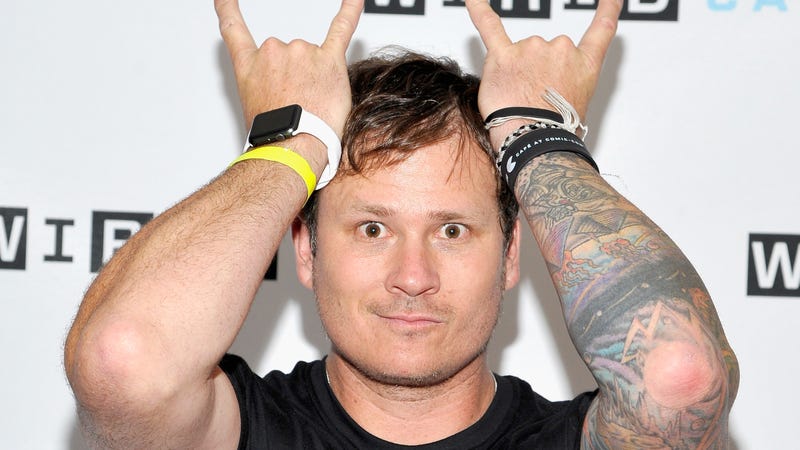 (Photo: John Sciulli/Getty Images)
Blink-182 guitarist Tom DeLonge, a man who once wrote a (pretty great) song called "Dick Lips," has proven himself to be a galvanizing force in the realm of extraterrestrial exploration. Sure, we all had a laugh when DeLonge quit the band and started crowdfunding for a spaceship, but then WikiLeaks revealed he was chatting UFOs with high-ranking political consultant John Podesta and a New York Times report not only confirmed some of DeLonge's previous ramblings on the subject, but also the legitimacy of some of those involved in his To The Stars Academy.
To listen to DeLonge speak on the subject is, to say the least, maddening. He's articulate in outlining the aims of his academy, and his stories as to how he first came in contact with the government remain remarkably consistent, but, as so happens in this sprawling interview with Joe Rogan, it isn't long before DeLonge starts spouting off about Greek culture and the lost city of Atlantis and we're back to rolling our eyes.
If you're in need of a primer on the whole situation, as well as a breakdown of the ambitious science-cum-entertainment plan of To The Stars, The Fader has published a pretty exhaustive rundown. You'll also read about the encounter that confirmed DeLonge's belief in aliens and, surprise, it happened while he was camping near Area 51. Probably the most revealing part of the piece, however, is the reaction from the greater UFO community, who aren't surprised at all that DeLonge has been chosen as the effort's mouthpiece.
"It might seem odd to some people that Tom DeLonge has built up this impressive team of scientists and former government insiders, but it doesn't surprise me," says Nick Pope, who used to study UFOs for the British government.
"People do get starry-eyed, especially if your whole career has been about secrecy and silence. A rockstar is the absolute antithesis of that, and so it's appealing."
The International UFO Congress' Alejandro Rojas agrees.
"DeLonge is able to get people to open up and talk with him. This is a cool guy you want to hang with and you want to be buddies with."
You can even see the team's starry eyes in their own quotes to The Fader. Luis Elizondo, who ran the government's secret UFO investigation program that was the subject of the aforementioned Times article, says,
"Forgive the cliché, but this is really a rockstar team."
By
Randall Colburn
Please enjoy...
Below is an awesome video of unusual looking UFOs and the people on Earth firing LASERS at them? It totally compliments the earlier video of when the US was caught firing a ROCKET at a UFO? It would seem that now they use LASERS and that they used to use conventional ROCKETS?
It's a slam dunk case closed type of scenario because we've seen the evolution of our EARTH'S DEFENCES in the form of a time scale from bow and arrows to machine guns? It's only an analogy but it seems to fit like a glove, analogy, lol?
Top Secret stealth aircraft
Dead Aliens